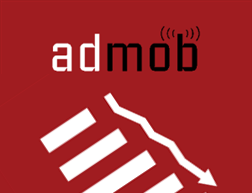 I recently considered adding advertisement to my app to see whether that could be a viable method to generate revenue. In the past Google adsense turned out to be an important income for my website. So I thought admob would be as well.
Boy was I mistaken.
First of all, using the admob API is hard work. Some of the problems I encountered
Getting it linked in. The Android SDK for eclipse is so unstable that it just never worked. Switching to Android studio made it easier but then still it took a couple of days.
Resource issues After linking the library in, everything worked but Admob kept on spouting resource errors. Days later, I found a post by the admob team that I can simply ignore that error. Can't they simply remove that error then instead of sending me on an egg hunt ?
The problem of API8. The Admob SDK just doesn't support older phones, so that cuts down the market already. On older phones admob just stopped working. (Lucky people who are staring at all those black boxes)
No keywords The API normally allows you to add keywords so that the ads are better targeted. No luck there, as soon as you use some weird UTF8 characters (as can appear in song titles), the thing CRASHES. Can you imagine that ? A support library that is supposed to make me money crashes my app, which would lead to negative reviews ? So no keywords then.
Performance sucks Then there was the problem of performance: the admob runtime is not the most efficient one can imagine. While my app is rendering audio, providing the user interface and actually doing things, admob just seems to hog resources. Probably while waiting for a network connection or who knows what. 35% CPU time was used, while the mp3 decoder only used 7%. Seriously ? What is so difficult on serving adds that you need the resources of five mp3 players ?
Let's say implementing the ads through the admob SDK took around 1000 EUR (a week work). Now it was time to actually get to the revenue…
Well… forget it… The estimated revenue per thousand impressions on admob is so so low (0.02 EUR !) that you will not see any money. That means that in order to obtain that 1000 EUR back, before even starting to make any profit, the app needs to generate 50'000 impressions. Now, you might think this is reasonable. But it is a magnitude difference compared to the old adsense ads. And the fact remains it isn't reasonable. After all you provided something: screen real estate. It got used, yet whether you get paid or not depends on whether someone clicked on that ad or not. If impressions aren't worth shit then why do we see so much advertisement ? Compare this to an auto route with advertisement billboards: What Google wants is that you give them the billboards and then they will see whether someone was really interested before actually paying you.
Of course, you could say: this is how it works… Well, I'm telling you: this is not working anymore. For very few people. Just search for 'admob low cpm' and you will see quite a lot of stories of people that have millions and millions of views to earn next to nothing.
So, that was it for admob. It was nice to know you. Or not. It took a lot of investment from my side. Your support sucked, your development team sucked and your payout sucked. Goodbye.